Caring for Spinal Cord and Traumatic Brain Injury (TBI)
Trauma that causes spinal cord and head injuries damages more than just the body. The initial suffering becomes a life-long ordeal, which can be psychologically devastating. If a member of your family has suffered head or spine trauma, the road to recovery is going to be very difficult. Your loved one will need ongoing services, perhaps for life, depending on the severity of the damage. Long-term treatment has helped people regain some function by retraining muscles as well as helping psychologically.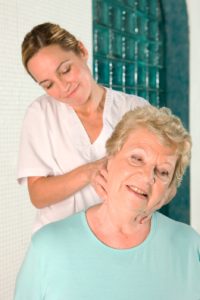 Harbor Care Associates has professional, certified team members who are specially trained to assist your loved one with traumatic injuries. They can provide in home physical, occupational, and speech therapy, as well as assisting your loved one to transfer from place to place throughout their home. In addition, they will teach your family how to transfer, reducing the risk of falls. The nurses and aides are trained to help prevent infection and pressure ulcers, keeping the skin intact and healthy. Any problems with medications are also managed. Treatment for each person is done by a case-by-case basis, ensuring that your loved one is receiving the best of care.
Caring for a person with head or spinal trauma is a huge responsibility. You will be under a lot of stress, as well as your family. Head or spinal injuries will affect all aspects of your life. You will need help to do the best for the one you love. Harbor Care Associates has the team and services to improve your loved one's life and to relieve your family's stress. Call anytime, 24 hours per day, 7 days per week. Harbor Care Associates is here to help.
Save